SEXY KRAMPUS-PARTY – Wednesday, Dec 6th 2017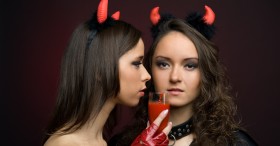 On Wednesday, Dec 6th 2017 we celebrate a "Sexy Krampus Party" starting at 9:00 p.m. at our SAUNACLUB ATLANTIS with lots of surprise goodies. At our Club all of our "sweet Krampuses" drop their covers……. For everybody who has been good this year there will be small gifts from Santa. All of the naughty ones will receive s spanking with the birch!!!
All of our charming Top Girls are looking forward to see you at the event and of course the whole ATLANTIS Team as well.
---
SAUNACLUB – ATLANTIS
Gewerbepark Süd 7
A-6330 Kufstein
Tirol /Austria
PHONE +43 5372 64349
FAX +43 5372 6434912
E-MAIL info@atlantis.at
OPENING HOURS
open daily from 2:00 p.m. to 2:00 a.m.
Dieser Beitrag ist auch verfügbar auf: German
Recent Posts
Share This: On Wednesday, Dec 6th 2017 we celeb...

Share This: "Indulge and Feast to the ful...

Share This: "Saunaclub Atlantis Kufstein – 1st ...
Archives
Categories
Tags